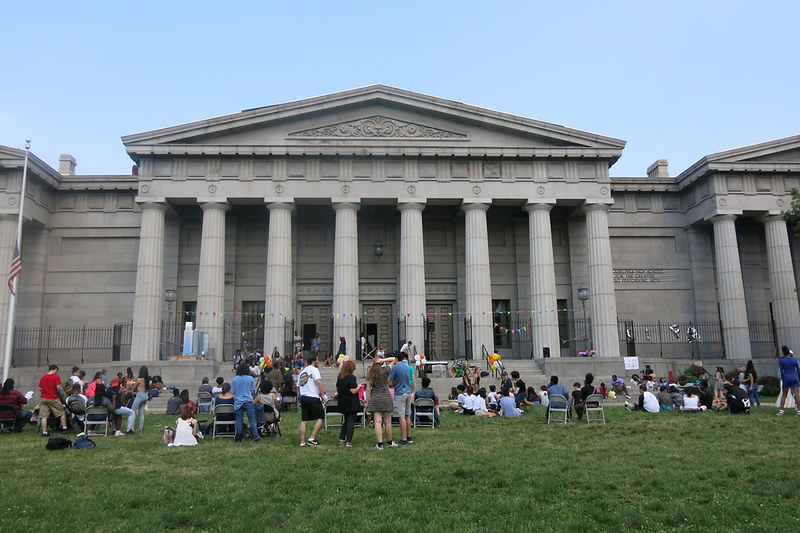 CAPA At A Glance
Mission & Approach to Learning:
The mission of the High School for Creative and Performing Arts is to nurture the creative talents and aspirations of its students within an academic/arts college preparatory program. In a multicultural environment, we provide a comprehensive and sequenced program of study in seven arts disciplines, as well as rigorous pre-college academic instruction across the curriculum. Our graduates will demonstrate a mastery of defined skills that enable them to be productive, self-directed, lifelong learners, who appreciate and respect diversity.
Points of Pride:
99% graduation rate; 97% college acceptance rate
Among the eight School District of Philadelphia High Schools named on the "Best High Schools in Pennsylvania" ranking by U.S News and World Report, The Philadelphia High School for the Creative and Performing Arts ranked third among all district schools in the city.
Recognized by Philadelphia Magazine as one of the "Top City Schools."
Annual participation in the Channel 6 Thanksgiving Day Parade; Instrumental students participate in district, state and regional orchestras and bands; Vocal music students perform during annual holiday events and special celebrations throughout the city and region. Theater students provide interactive, literacy-focused theater activities for elementary students; Award-winning visual artwork produced for School District annual art displays and at various prominent venues around the city; Dance students win annual scholarships at national/international dance competitions; Annual spring musical. 2019 recipient of The Independence Awards for High School Musicals: Best Musical, Best Scenic Design and Best Orchestra.
Courses & Program Highlights:
• Approved CTE Program: Digital Media Production (Graphic Design, Film/Video Production, Photography) 
• Advanced Placement Courses: Biology; English Language and Composition; English Literature and Composition; Music Theory; World History, American History, Government, and more.
• Art Majors: Theater; Dance; Instrumental Music; Vocal Music; Visual Arts; Creative Writing, Digital Media Arts (CTE)
• Honors Courses: offered in all core subjects beginning in ninth grade.
Extracurricular Activities:
• Book Club
• Down to Earth Environmental Club
• Gay-Straight Alliance
• Gospel Choir
• Intramural Sports
• Jazz Ensemble
• Mock Trial
• My Vision Theater Club
• National Honor Society
• Student Council
• Tech Crew
• Yearbook
• Photo Club
Sports Teams:
• Basketball—Boys'
• Cross Country—Co-ed
• Softball—Girls'
• Volleyball—Boys'
• Volleyball—Girls'
Partnerships:
• The Block Church
• The Kimmel Center
• Pennsylvania Music Educators Association
• Philadelphia Department of Recreation
• Philadelphia Orchestra
• Philadelphia Theater Company
• Temple University
• Young Playwrights, Inc.
and more…